Welcome to Nari Shiksha Niketan P.G. College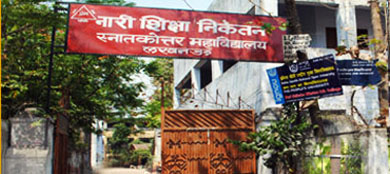 Nari Shiksha Niketan P.G. College is a part of Nari Sewa Samiti, a very well known institution of Lucknow devoted to the development and empowerment of women.
Principal Message
VISION
Prof. Sapna Verma joined as Principal of Nari Shiksha Niketan PG College, Lucknow with a broad vision and ultimate goal of RISE :-
Releasing doubts, worries, anxieties and fears of colleagues.
Inspiring everyone associated with the college for achieving the goals.
System-reviewing and creating a bullet proof action plan.
Empowering everyone to reach their goals successfully and spiritually.

Believing that every moment is another chance to recreate oneself to do something new, hence wasting a precious moment is not acceptable at all & with kindness, compassion and love one can align to true goal of life. The ambitious plan of successful realization of NEP, 2020 with NAAC accreditation is the immediate focus.
Courses Offered
U.G. Course.
B.A. - Subjects: English, Economics, History, Anthropology, Hindi, Political Science, Sociology, Sanskrit, Education, Psychology, Philosophy, Ancient Indian History, Arab Culture, Physical Education.
B.Sc. - Subjects: 1. Anthropology/Chemistry 2. Botany 3. Zoology
B.Com - Compulsory Subjects by the University.
M.A. - Subjects: Hindi.